Watch as we walk you through how we scaled an eCommerce ad account from 5x ROAS to 12x Return On Ad Spend, dropped their Cost Per Purchase by 63% & Increased Monthly Revenue by 141%!
Our experience in eCommerce has given us the ability to quickly identify where problems & opportunities lie, and through rigorous and strategic testing, over the years we have created our own proprietary methods and dependable systems for growing businesses and helping them reach 7-figure years and beyond.
Plus, let's face it - You have a business to run, you don't have time to learn how to become a high-class Facebook Ads expert
(It took us over 5 years)

If you're a 6-figure business looking to scale to 7-figures, and either:
We've Managed over £1Million in Facebook Ad Spend, all while getting mouth-watering, money-making, scale-able results like this…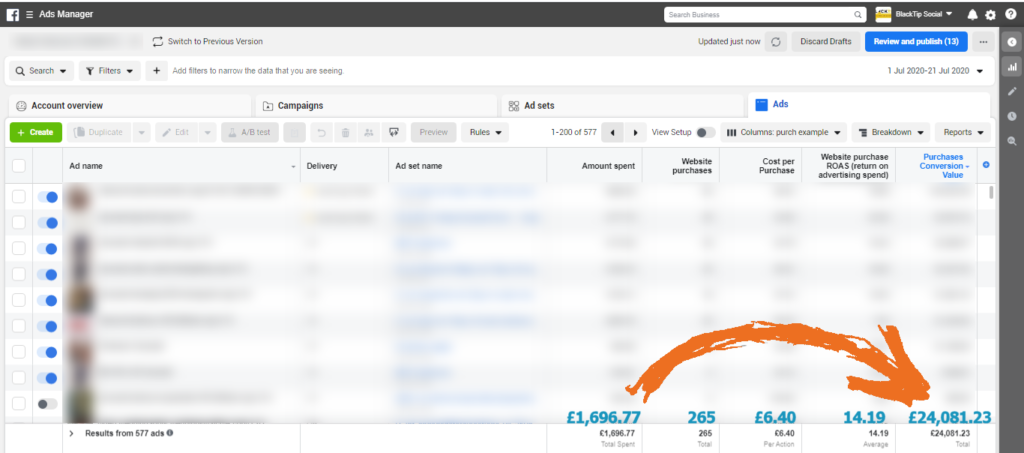 In this ad account, for every £1 we are spending… we're getting £14.19 back, plus we SLASHED their cost per purchase from £19 down to £6.40, which was enormous for this business!
When this particular customer came to us, they were paying a RIDICULOUS fee to a giant agency for Facebook Ads services, all while barely being able to stay in contact with them!
After a short call and a deep dive into their ad account, business goals and objectives, we discovered we were a great fit to work together, and for 50% less than the enormous, impossible-to-speak-to agency they were previously working with…

Sally Minns
Master Debonair
"I can't recommend Blacktip Social enough!" They really get our brand and are constantly coming up with new ideas, always striving to do better. Not only did our results go through the roof, but we had our most successful month EVER with Facebooks Ads! If only we had found them sooner! Team Blacktip Social all the way! 10/10!